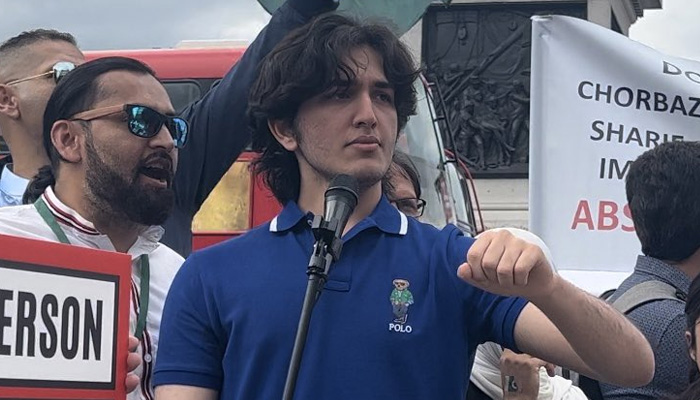 PTI supporter says he was exercising his right to freedom of speech.
"Is Islamabad Police going to come to London to arrest me?" he asks.
Shayan says case should've been booked in London, if on merit.
---
A British-Pakistani supporter of the Pakistan Tehreek-e-Insaf (PTI), Shayan Ali, has denied the terror charges under which he has been booked by the Islamabad police in the wake of harassing Islamabad Additional District and Sessions Judge Humayun Dilawar in Hull, a city in England.
The young political activist said he was exercising his right to freedom of speech and assembly when calling out the judge, along with other party supporters, during his arrival at the United Kingdom's Hull University to attend a human rights and the rule of law course.
Judge Dilawar had sentenced former prime minister Imran Khan for concealment of assets and corrupt practices.
The Islamabad police, a day earlier, registered a first information report (FIR) against Shayan Ali at the Ramna Police Station, which detailed that he made videos of the judicial officer in London and harassed him, as was evident from various videos circulating on social media.
Shayan, however, retorted that he is being accused of terrorism for using his right to freedom of speech against Judge Dilawar.
"The incident took place in Britain, but the FIR has been filed in Islamabad. Is the Islamabad Police going to come to London to arrest me?" the PTI supporter said in a video message on X, formerly Twitter.
He asserted that if the case was filed on merit, he should have been booked in London.
"What's more interesting is that the body of the FIR is in English," Shayan said, hinting that it could have an impact on his academic pursuits in the UK, as he is expected to start his law degree at one of the country's top law universities.
The PTI supporter said the development came the same evening when he announced his admission on social media. "Terrorism allegations are very serious and once they are levelled against someone, their university and education prospects become difficult [to achieve]."
Shayan added that his human rights are protected under Articles 10 and 11 of the ECHR, HRA 1998 which entail freedom of expression and right to assembly.
"It is not referred to as terrorism in the UK. It is a basic human right," he said.