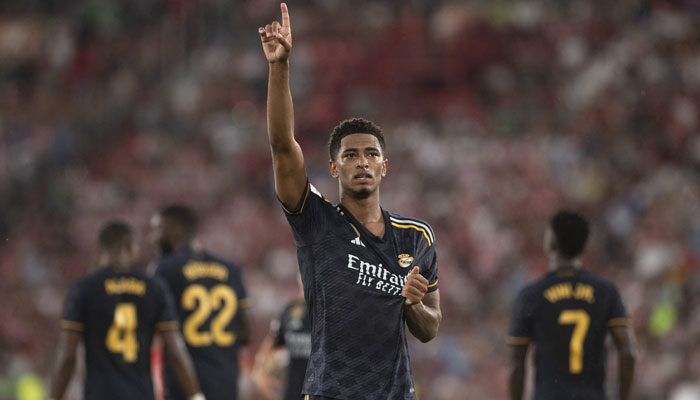 Jude Bellingham's remarkable performance led Real Madrid to a 3-1 triumph over Almeria in La Liga. 
The English midfielder, who recently joined the Spanish giants, showcased his prowess by scoring two crucial goals, sealing Madrid's second consecutive victory.
Bellingham's impact was evident from the start as he swiftly equalized after Almeria's early lead. His adept finishing skills secured the first goal, converting a close-range opportunity assisted by Federico Valverde. The 20-year-old's versatility and synergy with teammates Rodrygo and Vinicius Jr were pivotal in adapting to the new 4-4-2 formation, helping fill the gap left by Karim Benzema's departure.
The decisive moment arrived in the 60th minute, orchestrated by veteran Toni Kroos. Bellingham's intelligent positioning allowed him to nod in Kroos's well-timed cross, clinching his second goal of the match. The remarkable teamwork didn't stop there, as Vinicius Jr displayed brilliance in the 73rd minute with a dipping strike that soared into the top corner, extending Madrid's lead to 3-1.
Bellingham's statement after the match echoed his exceptional contribution. He expressed his comfort and growth within the team, citing a significant improvement from the previous season. Bellingham's performance not only highlighted his individual progress but also his seamless integration into the squad's playing style.
Manager Carlo Ancelotti praised Bellingham's adaptation to La Liga, emphasizing his crucial role in the team. The absence of key player Karim Benzema was seemingly compensated by Bellingham's quick adaptation, showcasing three goals in his first two games. Ancelotti also commended goalkeeper Andriy Lunin's performance, who has stepped up in the absence of Thibaut Courtois due to injury.
Real Madrid's back-to-back victories have propelled them to the top of the La Liga standings, tied with Valencia on points but leading due to goal difference. This early success reflects the team's collective effort, with Bellingham's standout performances at the heart of their strong start to the season.