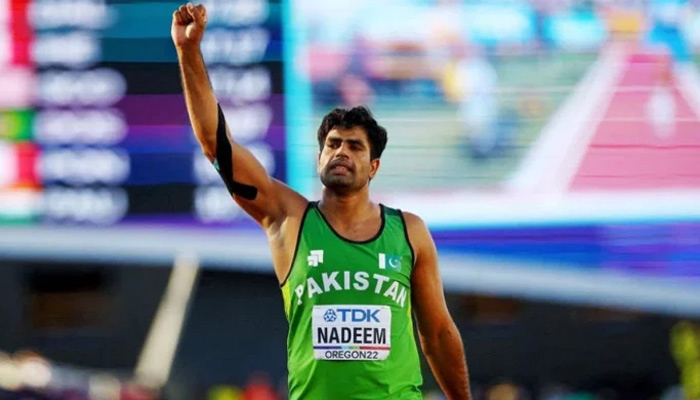 LAHORE: Pakistan's premier javelin thrower and Commonwealth Games and Islamic Games champion Arshad Nadeem on Friday was highly optimistic of a bright performance during his crucial stint in the upcoming World Championship in Hungary.
Arshad along with his coach Salman Butt will leave for Hungary in the wee hours of August 20 (Saturday night) to feature in the event. The javelin throw qualifying round will be held on August 25 with the final to be conducted on August 27.
This is the third time that the Olympian Arshad will be featuring in the World Championship.
During a chat with this correspondent just before his training session here at the Punjab Stadium on Friday, the confident-looking Arshad said that he feels well and is hopeful to click.
"I am feeling well and InshaAllah will try to achieve the desired result," Arshad told The News.
He said if he is able to achieve his best throw then he can pull off gold in Hungary. "If I am able to achieve my personal best throw then it may get a gold InshaAllah," Arshad said.
Asrahd is also happy with the way he was looked after by the PSB Coaching Centre Lahore administration and his coach Salman Butt.
"I have been looked after well here," Arshad said.
This will be after one long year when Arshad will be competing in the international circuit.
But Arshad said he is used to it. "I also featured in the World Championship in the US last year after a long gap of one year. I hope I will deliver in Hungary and the nation should pray for me," Arshad said.
Arshad shot to fame when he finished fifth in the Tokyo Olympics, a feat that changed the entire life of the athlete. It not only fetched him fame and wealth but also transformed his personality.
Arshad then also finished fifth in the World Championship in the US last year. Soon afterward he recorded his best throw of 90.18 metre in the Commonwealth Games in Birmingham which is also a record throw of the quadrennial event.
He then underwent elbow and left knee surgery in London, took time in his rehab and returned to competitive field in May in the 34th National Games in Quetta.
Although he failed to show his fitness there he managed a gold for his department WAPDA. In this event he received a heavy blow when he injured his right knee which later forced him to skip the Asian Championship held in Bangkok recently.
But now he looks fine. "I don't feel any pain and am okay," Arshad said. His coach Salman Butt, meanwhile, told The News that Arshad is in fine spirits ahead of the global event.
"He is in good spirits," Butt said. "Yes one disadvantage is that he is playing in international circuit after one year but I hope he will make his top effort and as far as medal is concerned it depends on luck," Butt said. "We have worked extremely hard as we train for around two and a half hours daily," Butt said.
"He has achieved top fitness and his conditioning is quite good and he is ready for the task," Butt said. Arshad has trained here at the Punjab Stadium and University of Punjab to prepare for the World Championship.
This correspondent understands that he has trained with just one javelin which was given to him by former Army Chief General Qamar Javed Bajwa after Arshad finished fifth in the Tokyo Olympics. However, he is not going to carry this javelin with him to Hungary because it will also cost the federation.
The World Championship will be a real test for Arshad as he has to prove his fitness and form. After this event he is also Pakistan's sole medal hope in the Asian Games which will be held from September 23 to October 8.
According to Butt, after the World Championship they will resume their training here at the Punjab Stadium for the Asian Games. The coming few months are very busy for Arshad as he will also feature in the 2024 Paris Olympics.