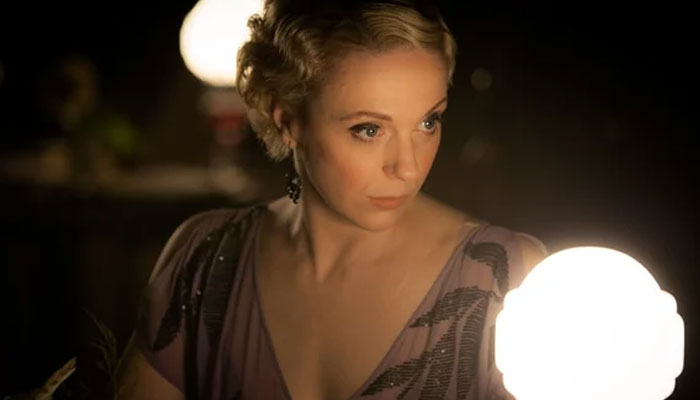 In the age of social media, backlashes are swift, as Amanda Abbington would learn from her experience after she was forced to quit Twitter after an old anti-drag tweet put her new BBC show in jeopardy.
The Sherlock star tweet on March 2 went viral, where she said, "I lost quite a few followers for saying that a semi-naked man in thigh-high boots dancing in a highly sexualized way shouldn't be performing in front of babies, and it tells me everything I need to know about where society is heading. "How do you not agree with me on this?"
The 49-year-old also tweeted on the viral video from a drag show where a dancing person was seen sporting boots and bondage, "people taking their children to drag queen shows have something fundamentally wrong with them."
Expressing concerns that trans issues are affecting women's rights, the British actor opined, "If you don't actually have proper, real breast milk in your breasts, just don't try and breastfeed your baby."
But she was caught between a rock and a hard place when BBC's Strictly Come Dancing enlisted her in the lineup.
Fury was sparked by trans activists over the studio signing up the controversial star.
An insider told The Sun, "After she was officially unveiled as a Strictly contestant there was a big backlash from activists to some of her Twitter views," adding, "She removed the account not long after so those tweets can no longer be jumped upon by people who do not agree with her views."
Amid the backlash, the Crime Thriller award winner took to Instagram on Sunday to clarify that she felt the drag video was "oversexualized" and said she did not intend to slam the trans community, adding her son Jamie played a drag queen in Everybody's Talking About Jamie.
"I'm not transphobic; I am a firm supporter of the legitimate trans community; I always have been… "I'm not a nasty person, I'm really not. Anyone who knows me knows I would give you my last tenner if you needed it. I'm not a hateful person, and I support the trans community," Abbington added.